Aeronautical Design Software
AAA is a comprehensive aircraft design program that gives users full authority over the entire preliminary design process. From weight and performance sizing to aerodynamics and stability and control analysis, you can monitor all aspects of the design every step of the way.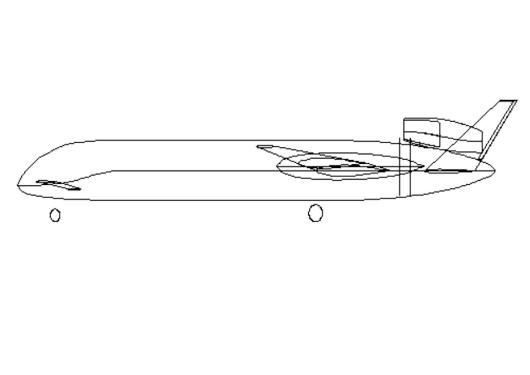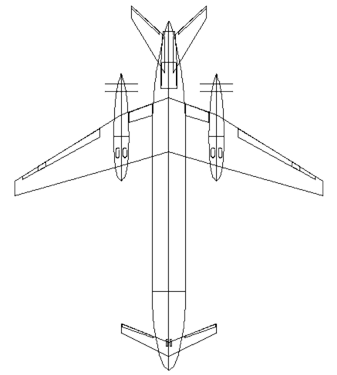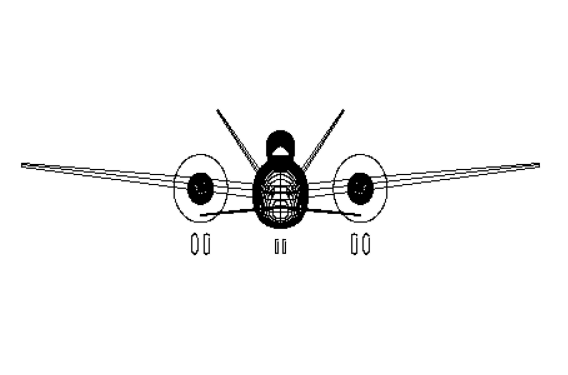 Advanced Aircraft Analysis Modules
The purpose of the Performance Sizing module is to allow for a rapid estimation of those aircraft design parameters which have a major impact on aircraft performance. Aircraft are usually required to meet performance objectives in different categories depending on the mission profile. Meeting these performance objectives normally results in the determination of a range of values for:
Wing loading (W/S)
Thrust loading (T/W) or power loading (W/P)
Aircraft maximum lift coefficients
The variables listed above are plotted in the form of a performance-matching plot. These plots depend on the type of aircraft, the applicable specification and the applicable regulation(s). With the help of such a plot, the combination of the highest possible wing loading and the smallest possible thrust (or highest power) loading, which meets all performance requirements, can be determined. The methodology used for performance sizing can be found in Airplane Design Part I.
The purpose of the Analysis submodule is to provide the user with Class II analysis methods for predicting the performance characteristics of an aircraft. The methodology used to analyze the performance characteristics can be found in Chapter 5 of Airplane Design Part VII and Airplane Aerodynamics and Performance.
The performance characteristics consists of:
Thrust-Speed
Power-Speed
Stall Speed
Take-off Distance
Climb
Cruise
Dive and Descent
Maneuver
Glide
Landing Distance
The engine performance data such as thrust or power can be entered as function of speed.
This module exports aerodynamic and other pertinent data into Aircraft Performance Program (APP) native files. These files can be used in APP.
The purpose of the dynamics module is to help the user analyze the open loop dynamic characteristics of the aircraft in a given flight condition. The methodology used to analyze open loop dynamic characteristics can be found in Flight Dynamics Part I.
Dynamics is divided into estimation of the longitudinal and lateral-directional dynamic characteristics. Aircraft transfer functions are determined. Flying qualities are checked against civil and military requirements. The effect of roll-pitch yaw coupling effect on the dynamic analysis is also determined. Sensitivity of various stability and control derivatives on flying qualities is also established. Phugoid and short period are determined. Spiral, dutch roll and roll performance are investigated.
The Routh-Hurwitz stability requirements are calculated.
The purpose of the Control module is to help the user analyze single and double loop feedback control systems of the aircraft. If the open loop dynamic characteristics of the aircraft are known, root locus analyses may be performed in the S-plane. The control analysis submodule can also be used to analyze a system open loop transfer function in the frequency domain (Bode diagram). The methodology used to analyze feedback control systems can be found in Airplane Flight Dynamics Part II.
The transfer functions can be selected from the standard aircraft transfer functions or defined by the user. If the longitudinal and lateral-directional stability derivatives of the aircraft are known, the user may use the Dynamics module prior to using the Control analysis module to generate the longitudinal and lateral-directional dynamic transfer functions of the aircraft. These transfer functions are transferred into the Control analysis module and can only be generated in the Dynamics module.
The transfer functions are:
Speed-to-Elevator
Angle-of-Attack-to-V-Tail
Pitch-Angle-to-Canard
Angle-of-Attack-to-Elevator
Pitch-Angle-to-V-Tail
Angle-of-Attack-to-Canardvator
Pitch-Angle-to-Elevator
Speed-to-Elevon
Human Pilot
Speed-to-Ruddervator
Angle-of-Attack-to-Elevon
Sideslip-Angle-to-Aileron
Angle-of-Attack-to-Ruddervator
Pitch-Angle-to-Elevon
Bank-Angle-to-Aileron
Pitch-Angle-to- Ruddervator
Speed-to-Canardvator
Heading-Angle-to-Aileron
Speed-to-Stabilizer
Angle-of-Attack-to-Canardvator
Sideslip-Angle-to-Rudder
Angle-of-Attack-to-Stabilizer
Pitch-Angle-to-Canardvator
Bank-Angle-to-Rudder
Pitch-Angle-to-Stabilizer
Speed-to-Canard
Heading-Angle-to-Rudder
Speed-to-V-Tail
Angle-of-Attack-to-Canard
Defined by the user
The following control systems can be analyzed:
Single loop feedback
Double loop control systems with the inner loop gain in the forward path
Double loop control systems with the inner loop gain in the feedback path
Gyro tilt angle effect
The human pilot calculation can be used to estimate a human pilot transfer function for use in the open loop control system analysis. The human pilot module can be used to model pilots of differing abilities, reaction times and physical fitness. This module can even be used to show the dangers of a drunken pilot in the loop. The methodology used to analyze a human pilot transfer function can be found in Chapter 10 of Airplane Flight Dynamics Part II.
The purpose of this module is to estimate the size and weight of the structural components. This is done using material properties and the results of the calculation of the total internal loads for the component from the loads module.
In this submodule material properties that are not listed in the available materials table may be added and have their characteristics defined. These materials will be added to the user defined category of the available materials table.
The purpose of this module is to estimate various costs of aircraft design programs. The estimation methods are presented in such a manner that they can be applied to civil and military aircraft of all types. The cost escalation factor (CEF) used in this module accounts for inflation. The various cost definitions and cost estimation methods used for this module are as discussed in Chapter 1 through 7 of
Airplane Design Part VIII
.
The purpose of the Atmosphere module is to calculate the properties of the standard atmosphere at a given altitude and temperature offset. Air density, pressure, temperature, speed of sound and acceleration of gravity are calculated as a function of altitude. For a given speed the Mach number is calculated.
The purpose of the Flight Condition window is to set and define each flight condition to be included in the analysis. An aircraft project can have one or more flight conditions defined. All parameters depending on speed, weight, flap deflection and center of gravity can be stored separately per flight condition. Flight conditions can be edited, moved, copied and deleted from the project.
AAA Benefits
Tested & Verified Commercial Software Product
SAVES TIME
The "Recalculate All" feature in AAA is a significant time savings tool and allows you to export the data for different flight conditions into an Excel or text file. All plots for trim diagram, for example, can be saved as separate graphics files, using this same feature.
SAVES MONEY
You will spend more in a two-month period developing your own in-house code, in man-hour cost alone, than if you purchased one commercial license of AAA. You will save over 80% in man-hour costs using AAA for preliminary design, versus using handbook and spreadsheet calculations.
REDUCES ERRORS
Using AAA will greatly reduce calculation errors. Being able to use multiple flight conditions (forward c.g., aft c.g., low speed, high speed, flaps up, flaps down, etc.) is a unique feature of AAA and significantly reduces time to track data and prevent potential errors.
KEEPS IMPROVING
We use AAA for our aircraft design consulting services. We are constantly updating and refining the methods used, based on our research and wind tunnel tests that we perform. This leads to regular software version updates, which benefits all of our software clients.
Support Documents & Downloads
Software License Pricing

  Purchase includes software download, CodeMeter license file, Educational & multiple license discounts.
Software Licensing
DARcorporation uses the Wibu-Systems CodeMeter technology for the software licensing. CodeMeter stores the software license securely in a CmActLicnse, a computer-bound license file, or a CmDongle, hardware-based security.
The CodeMeter license can be installed on a server (for multiple user access) or individual computer. CodeMeter license cannot be transferred to another computer once the license is installed. If you wish to transfer your CodeMeter license to different computers, a USB CodeMeter CmDongle is available for $500.00.
For more details, please visit Wibu-Systems website.

System Requirements
OS: Windows (32/64 bit) 7 and up
Minimum Free Hard Disk Space: 160 MB
Minimum Screen Resolution: 1024 x 768
Software Documentation
New Installation:
Upgrade Installation:
Free Downloads!
AAA Reader is a standalone program that allows users without AAA to view data stored in AAA files.
AAA Examples include over 60+ AAA aircraft files that can be read using AAA or AAA Reader.
AAA Atmosphere Module can be used to calculate the Mach number, Reynolds number, Temperature, Kinematic Viscosity, Density, Dynamic Pressure and speed of sound along with density, pressure and temperature ratios at various altitudes and speeds.
AAA Tips of the Day is the complete list of AAA tips that appear when the software starts. These tips offer hot key combinations, short cuts and more to enhance your user experience.
Windows Patches for AAA Help System
Windows 11 and 10 Patches
Download winhlp32 zip file.
Unzip the files to a local folder of your choice, right-click on install.cmd and select Run as administrator.
The install batch file should install the needed winhlp32.exe to your operating system.
Link to Microsoft for manual fix (look under "Manually enable macros on a single computer")
Windows 8.1 Patches
Link to Microsoft for manual fix (look under "Manually enable macros on a single computer")
Windows 8 Patches
Link to Microsoft for manual fix (look under "Manually enable macros on a single computer")
Windows 7 Patches
AAA Geometry Import Files
To simplify the process of inputting body geometry (e.g. fuselage, nacelles, tailbooms, stores and floats) into AAA, we are making available an AAA Body Geometry Import file. We use this spreadsheet in-house to quickly organize our body geometry data so that it can be easily imported into AAA. Download Import File & Instructions Below:
To expedite the AAA modeling process, we have made common fuselage and nacelle geometry import files available for download. These files can be used to quickly model common fuselage and nacelle geometry so that you can jump right into the iterative process of airplane design. Once your design has progressed you can customize these geometries to suit the unique appearance and performance requirements of your airplane.
Watch How to Input Fuselage Geometry from AAA Import Files to see how this file is used:
OUR CUSTOMERS
From Over 50 Countries
AAA is an industry standard aircraft design, stability and control analysis software and is installed in over 50 countries and is used by major aeronautical engineering universities, aircraft manufacturers and military organizations worldwide!