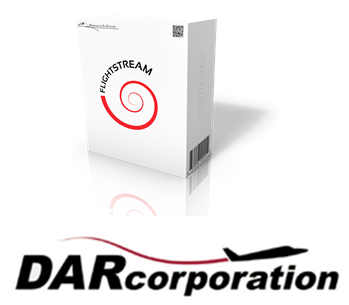 Press Release Oshkosh, Wisconsin.
Design, Analysis and Research Corporation (DARcorporation), announces the addition of a software program into its lineup of airplane design software products! FlightStream, developed by Research in Flight, will be sold and supported by DARcorporation. FlightStream will be demonstrated at EAA AirVenture in Oshkosh (Hangar C, Booth #3159).
FlightStream is a high fidelity aerodynamics tool perfectly suited for the aircraft designer's. Users can easily surface mesh their CAD models with the integrated meshing tool. The unique vorticity based flow solver, which uses only a surface mesh, produces accurate solutions in a fraction of the time required by full volume mesh CFD solvers.
"Research in Flight is excited to join forces with DARcorporation in bringing to market a new paradigm in numerical aerodynamics." – Roy Hartfield, Co-Founder, Research in Flight.
"We started our own development of a high-speed accurate CFD tool, but when we evaluated FlightStream we knew this is the tool to use for fast aerodynamic analysis and design. The next logical step was to become a reseller." – Willem Anemaat, President, DARcorporation
The full press release for the Announcement of the Reseller Agreement with Research in Flight for FlightStream Aerodynamics Software can be viewed here: